Welcome to the Wellness Studio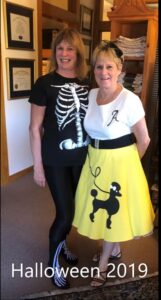 Dr. Mary Traverse and her long-time assistant, Blair Knies, have created in The Wellness Studio an oasis—-a welcome respite from stress and pain.  This is a place of healing, learning, love, humor, and purpose.  It's a place where life's pains can be transformed into a greater wholeness. Our goal is to empower you to make this a place of change and growth, so you can carry this with you back out in to the world and be more whole in every aspect of your life.
We strive to maintain a calm and comfortable, never pretentious, environment.  We are profoundly grateful and honored when you choose us to assist you in your health and wellness process.  We believe this process is grounded in mutual respect.
We demonstrate the respect and gratitude we have for each of our practice members in several notable aspects.  It is a real priority for Dr. Mary to support each person's process as a private and personal journey.  She will act as your "usher" in your process!  Tell her where you want to be seated in the theater of life, and she will do her best to help you find your way there, with wisdom and compassion, but also with respect for your own personal process.
Also, we respect your time as one of your most valuable assets.
Blair and Dr. Mary have spent years perfecting the art of running a smoothly operating, on-time practice.  And we always find extra time to help if needed.